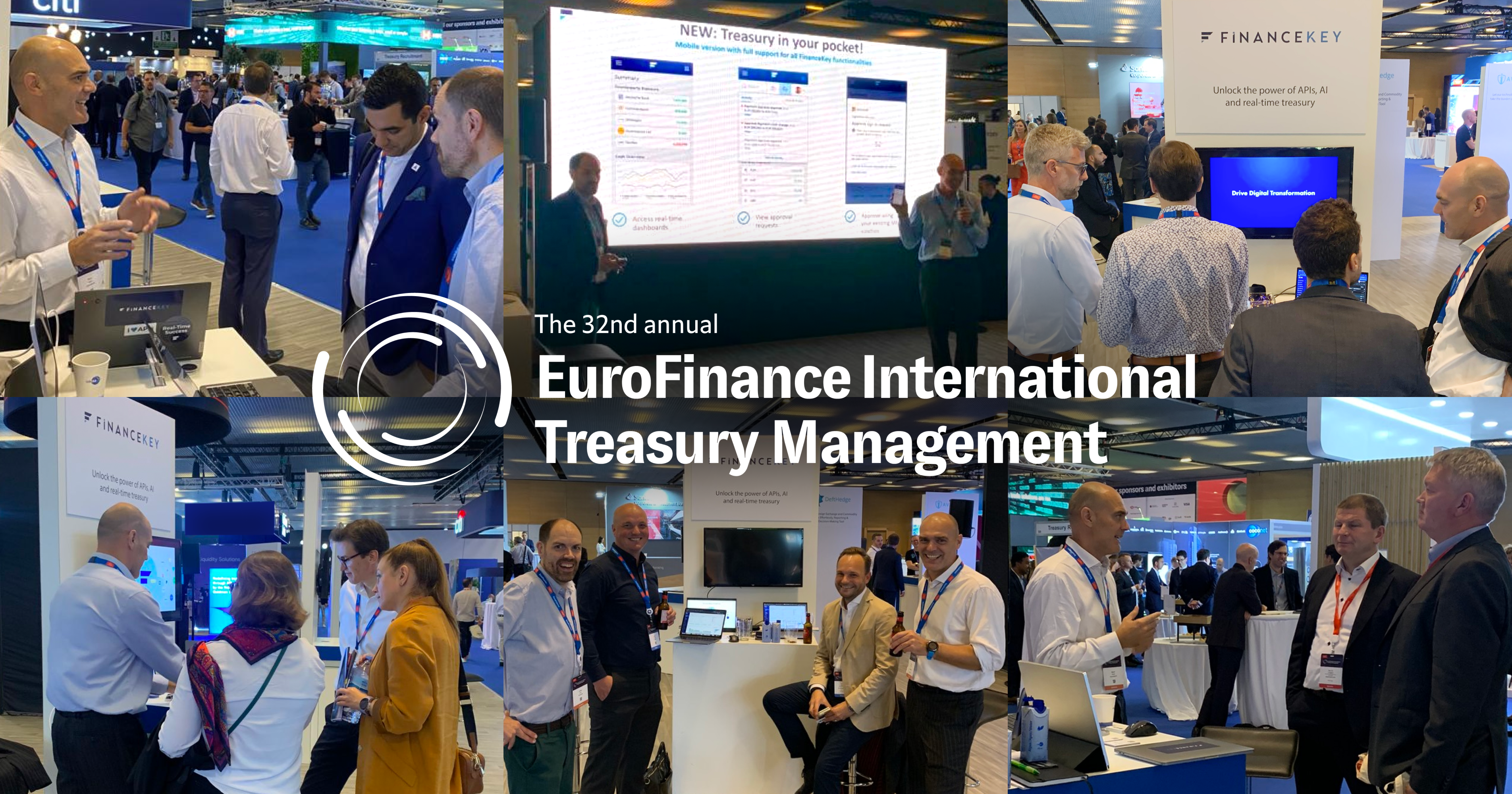 Proud Sponsor of EuroFinance International Treasury Management Conference
FinanceKey took part in the 32nd annual EuroFinance International Treasury Management conference in Barcelona, from the 27th to 29th of September. As one of the Innovation Hub exhibitors, we had the opportunity to showcase FinanceKey's solution to hundreds of conference visitors and deliver a presentation for an enthusiastic audience eager to hear about new innovative solutions.
The FinanceKey team was proud to be one of the sponsors of EuroFinance International Treasury Management Conference 2023. We could not have been more pleased with the amount of traction FinanceKey generated as a modern treasury and payments solution in the Innovation Hub! The new digital approach FinanceKey offers for finance teams and treasurers certainly did not go unnoticed – and not to forget the demand for our brand-new stickers.
We didn't have many quiet moments due to our schedule of 20+ pre-arranged meetings, and the constant flow of people visiting our booth kept us busy throughout the 3-day conference. It was great to make many new contacts, as well as meet some of the old friends of the FinanceKey founding team (plenty of their ex-colleagues!), all of whom we are looking forward to working with. We were glad to see how people were amazed when demoing our product of the ease of use, responsiveness of the UI and the agility FinanceKey offers in solving the challenges treasurers face today.
Reflecting on an insightful conference, it is best to start with our key takeaways. Firstly, APIs and AI are on the top of the mind of treasurers, with demand and priority to implement modern tech solutions. However, implementing such solutions has been a challenge with legacy tech not designed for APIs, AI and other modern technologies. Enterprises are struggling with fragmented processes and are looking for intelligent solutions for end-to-end automation, breaking the existing silos between systems and people. Lastly, cash flow forecasting and liquidity management are a concern on everyone's minds due to the current market and interest rate environment.
As part of the Innovation Hub exhibitors, FinanceKey got to present our solution to a wider audience – and we were excited to receive an excellent turnout for our show. Macer Skeels, FinanceKey CTO and co-founder, unveiled FinanceKey's new Mobile Version. The full application is now available on mobile, allowing treasurers & CFOs to have real-time insights always accessible in their pockets and a way to easily approve payments. Our presentation also emphasised that increasing complexity and ever-changing demands have put pressure on finance & treasury systems to adapt, underlining why FinanceKey has invested in providing agile technology that not only supports customers' payment and treasury needs today but also in the future.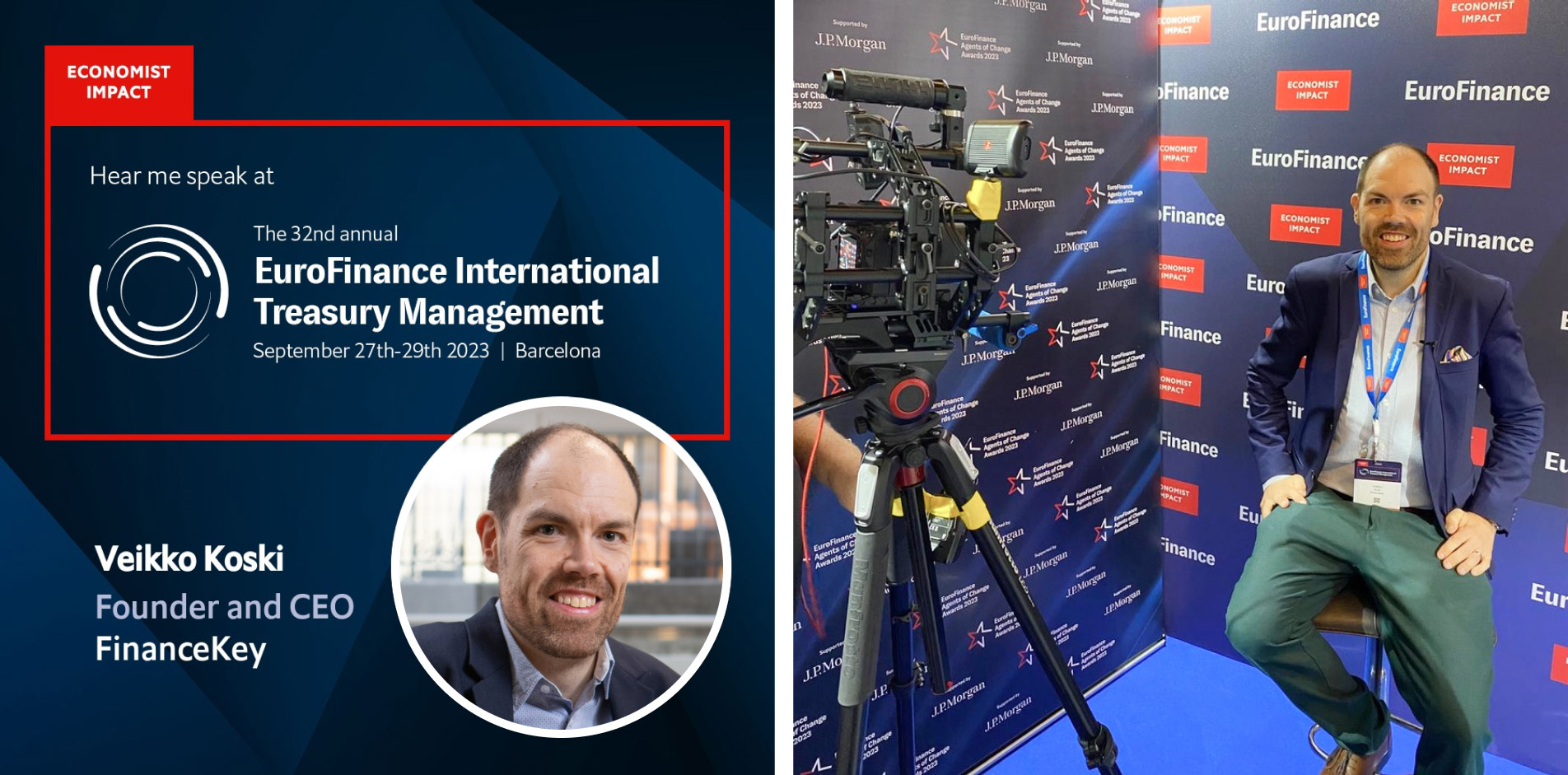 Our CEO, Veikko Koski, got the chance to share his insights on what's top of the mind for treasurers: "Access to real-time data via APIs, combined with modern technology, is more important than ever given the higher interest rates and the current economic environment. At the same time, everyone is pushing for efficiency gains, having to do more with less resources". Additionally, being able to apply AI to treasury context effectively, e.g., to cash flow forecasting and to fraud prevention, are among the key solutions treasurers are looking for.

Arriving in Barcelona before the conference, we were fortunate to meet our customers. We enjoyed seeing our friends at Heura Foods, going through our future plans together, as well as enjoying some time off playing pool and enjoying fantastic Spanish tapas in good company!
Next year, FinanceKey is looking to join the conference again, this time in Copenhagen, hoping to see many familiar and new faces there! Before that, many follow-ups to do – don't hesitate to get in touch with us to see how FinanceKey can help you drive digital finance transformation!
Big thanks to everyone who visited us during the conference!