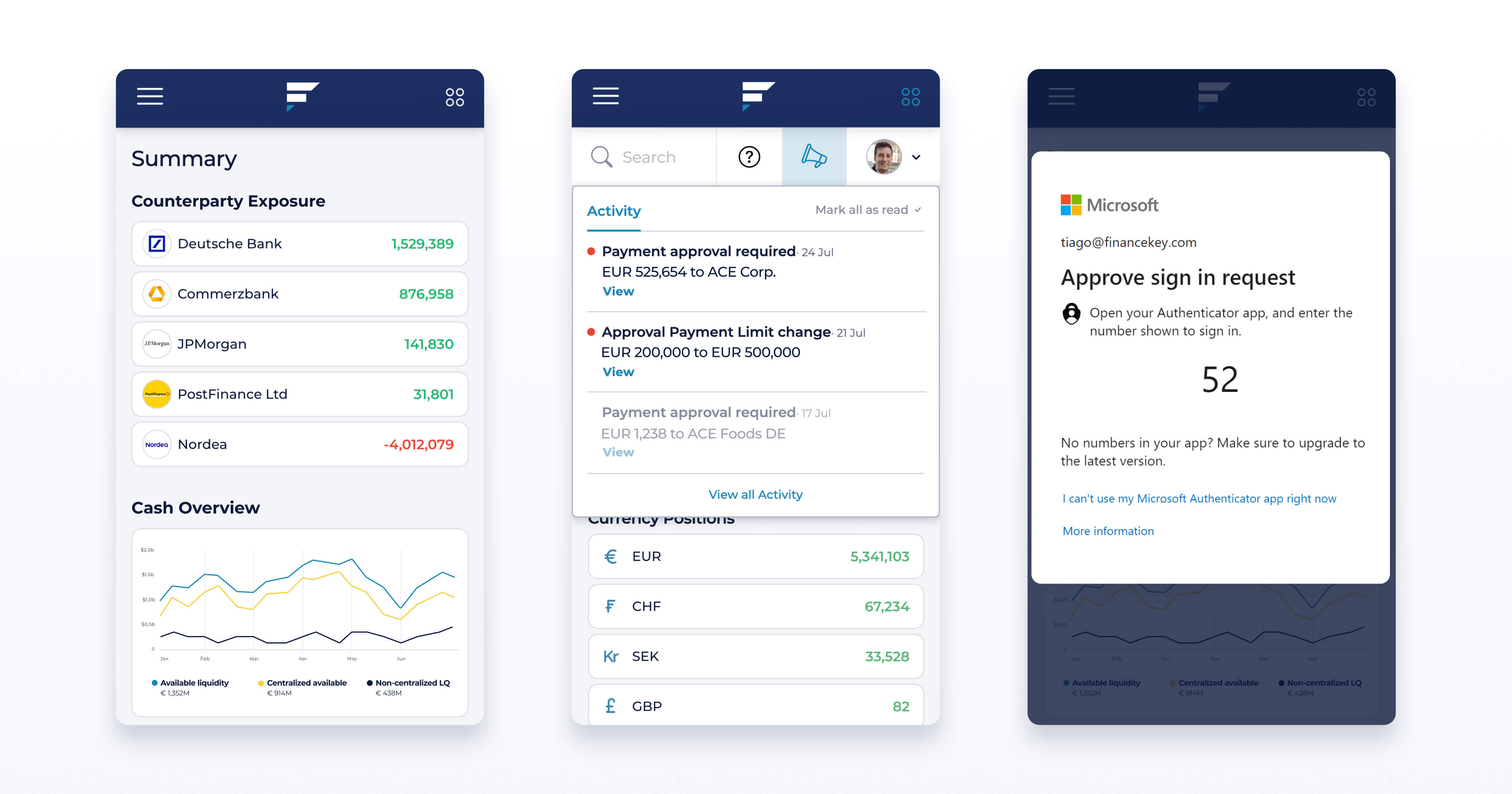 FinanceKey is now on Mobile!
FinanceKey unveiled its Mobile Version during the EuroFinance International Treasury Management conference in Barcelona. It was fantastic to see so much excitement about our Mobile Version – many treasurers and CFOs are eager to manage their treasury while on-the-go!
At FinanceKey we are proud of not only wanting to provide the leading technology for treasury & finance teams but are committed to providing the best customer experience. Our Mobile Version supports all FinanceKey functionalities and is one step further to ensure more productive and smoother workdays. Treasurers, CFO's and in some cases board members have access to their company's cash overview and to counterparty risks wherever they are, in the dimensions they need to see the data. They also benefit from having access to do payment approvals, master data changes and taking required actions on-the-go.
With finance and treasury teams facing ever-increasing workload having ability to take required actions when needed – such as payment approvals, managing liquidity, executing deals or verifying bank account beneficiary details – needs to be quick & easy. Safety is the utmost priority, and our solution is equipped with robust security measures, including data encryption and multi-factor authentication, to ensure your sensitive information remains protected. Overall, our Mobile Version is set to change how CFOs, treasurers, and finance teams manage their treasury & payments, by offering real-time liquidity dashboards and the convenience of approving payments in a safe & secure way from their mobile devices.
Use cases:
Real-time Insights: visibility to real-time cash, liquidity and working capital anytime anywhere
On-the-Go Approvals: streamlining payment approval process
Beneficiary verification: verify bank account beneficiary details while on-the-go with the need to onboard new vendors or employees to prevent fraud
Bank connectivity: enable connectivity or extend the consent to read data via our integration catalogue
Market data: Check the recent market data rates when you want
Don't hesitate to get in touch with us if you are interested in having your treasury in your pocket! We can further explore which FinanceKey modules & solutions best suit your needs.