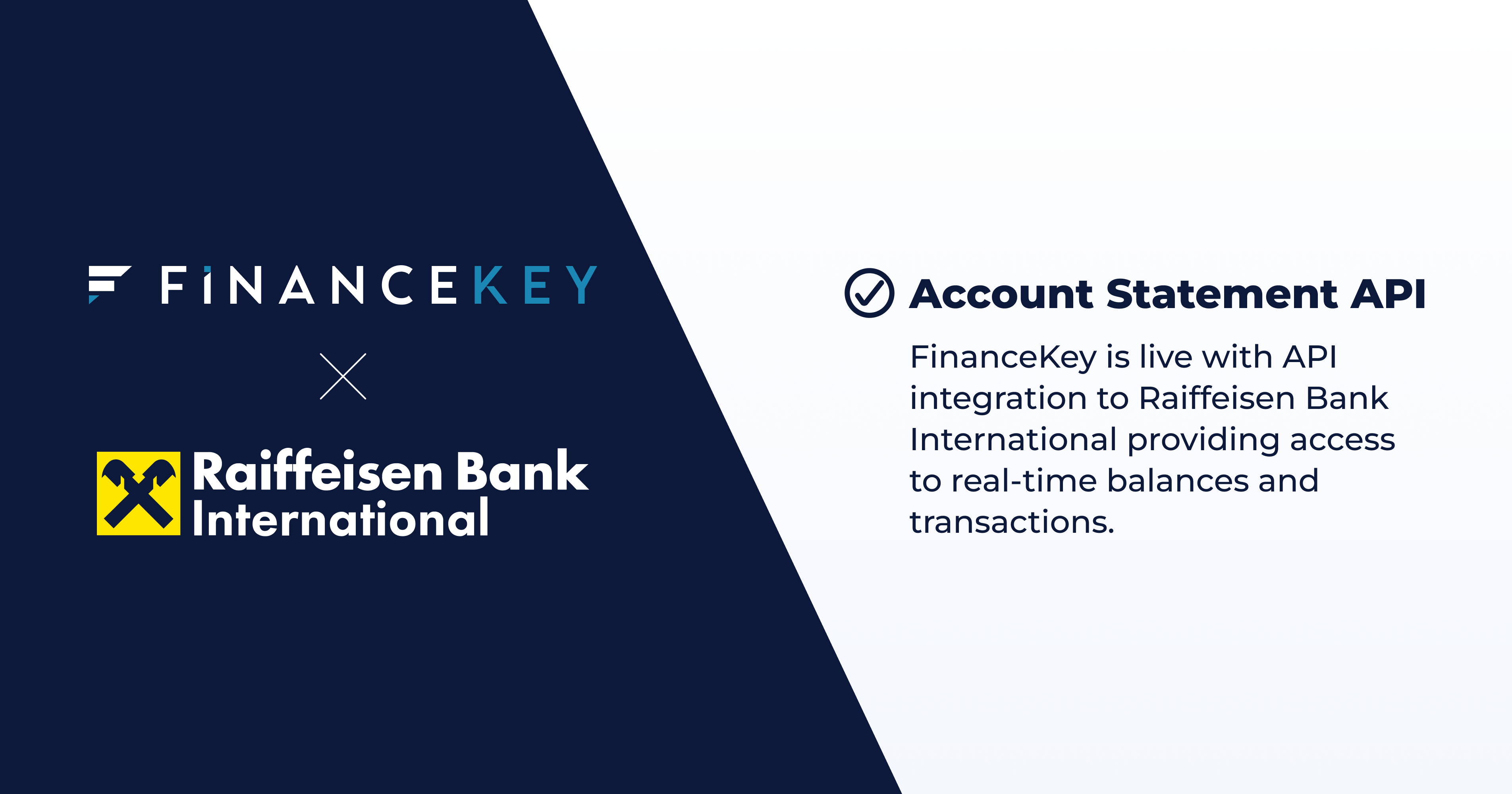 FinanceKey Goes Live with Raiffeisen Bank International Cash Management Open APIs
FinanceKey becomes an official third-party provider for Raiffeisen Bank International (RBI) Cash Management Open APIs and is live with RBI's Account Statement API providing access to real-time balances and transactions.
RBI is among the leading banks embracing the new open and connected banking experience with their cash management APIs designed for corporate use. Following the initial wave of Open Banking and the regulatory Payment Services Directive 2 (PSD2) APIs, cash management banks are increasingly investing in developing specialized APIs for business use.
From a business perspective, corporate APIs offer a better customer experience. One key difference to regulatory APIs is how the authentication is handled with the ability to set consent validity for longer. Additionally, corporate banking APIs provide benefits with all account types and locations (not only Europe with PSD2 regulation in place) being included and richer / more detailed data content that helps with reconciliation processes.
Moving from the old file-based batch-processing world into APIs is a journey, and requires a commitment throughout the organisation to deliver on the vision. RBI and their Open Banking journey is something we feel proud of at FinanceKey — especially how an interview of FinanceKey's CTO Macer Skeels by Journeys to Treasury has been a source of the initial inspiration for the RBI team. At the time of the interview, Macer was heading a Treasury IT team in a multinational corporation, with first-hand experience from the benefits of APIs for both business and IT teams.
From a corporate perspective, the lack of standardisation is a downside that comes to corporate banking APIs. FinanceKey helps businesses take advantage of multi-banking via APIs by removing the complexity of connecting to multiple banking APIs. RBI is applying ISO20022 standards on their reporting APIs which makes a lot of sense, using the same formats corporates are using currently or will be implementing soon. This hopefully becomes the norm in the industry.
Partnering with RBI as a third-party provider for their Cash Management Open APIs, FinanceKey provides RBIs customers easy access to real-time multi-bank cash management capabilities.