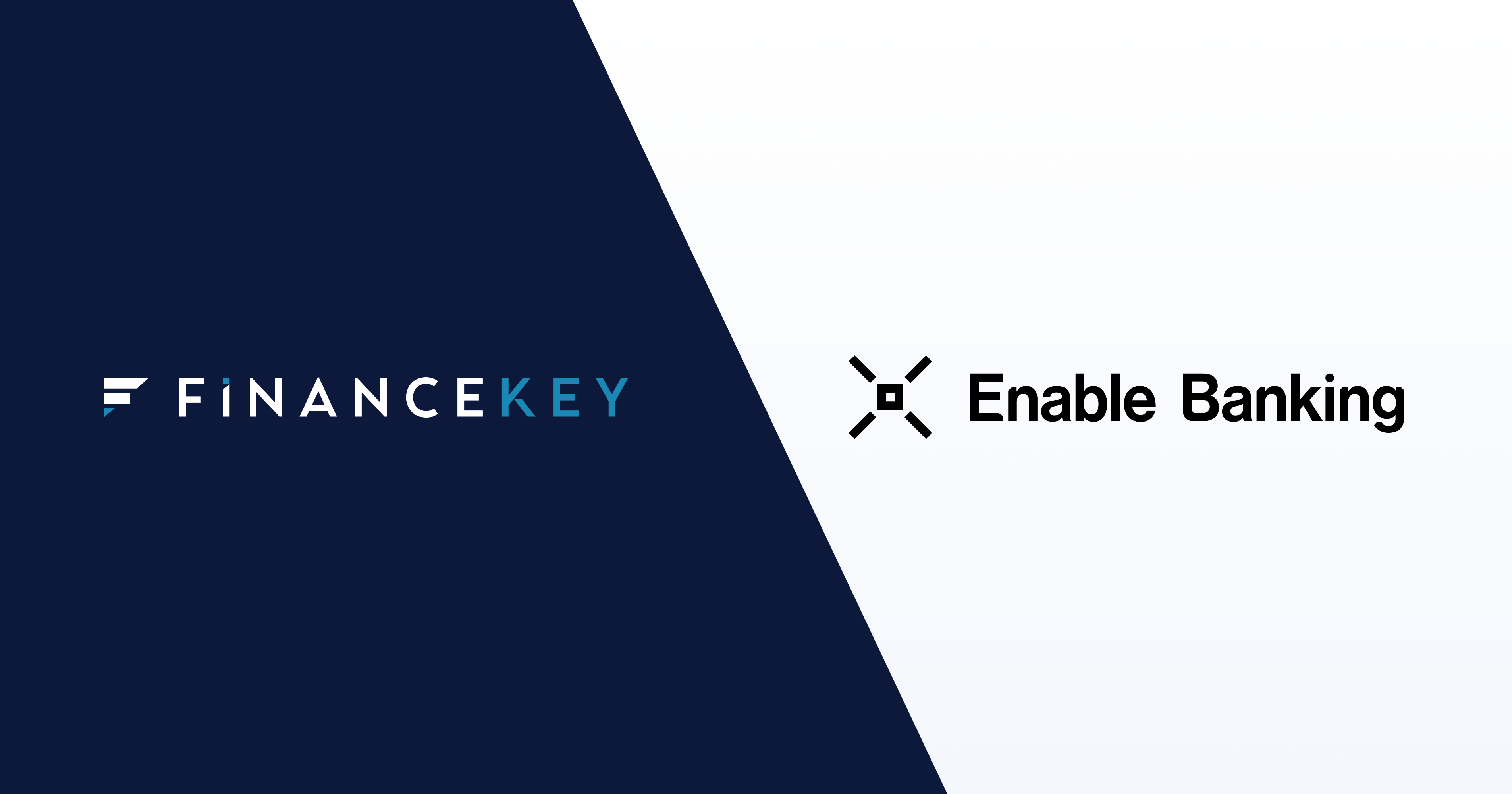 FinanceKey and Enable Banking Partner to Deliver Real-Time Financial Visibility for Businesses
Finnish fintech companies deliver instant cash visibility across multiple banks, empowering businesses to navigate economic uncertainty and streamlining finance processes, powered by a seamless Open Banking experience.
Helsinki, Finland – Finnish fintech companies FinanceKey and Enable Banking have announced a partnership to offer businesses a comprehensive Open Banking experience, enabling them to access instant multi-bank cash visibility and seamless connectivity to banking APIs via a single platform. The collaboration comes as businesses face a growing demand for real-time reporting during market volatility, economic uncertainty and a higher interest rate environment.
 Through the partnership, FinanceKey's customers will be able to choose from over 1,600 API connections provided by Enable Banking's extensive catalogue. FinanceKey's platform offers an intuitive interface for users to access data, automate workflows, process payments, and manage API connectivity without the need for complex system implementation projects. This joint effort exemplifies how fintech collaborations can foster mutual growth and enable rapid expansion into new markets.
"Instant access to bank balances and transactions allows finance professionals to make informed, data-driven decisions and enhance finance processes," said Veikko Koski, CEO & Founder of FinanceKey. "Through our partnership with Enable Banking, we now offer a comprehensive range of banking APIs, enabling informed financial decisions and streamlining of finance processes." In addition to the regulatory APIs, FinanceKey provides businesses access to premium banking APIs, as well as to traditional file-based channels.
Joonas Tomperi, Co-Founder and CEO at Enable Banking, expresses his enthusiasm for the partnership: "We are thrilled to collaborate with FinanceKey in delivering a comprehensive Open Banking experience to businesses. By combining our extensive catalogue of API connections with FinanceKey's innovative automation solutions for finance and treasury teams, we are reshaping the way finance professionals access and manage their banking data. In these uncertain economic times, our partnership offers a powerful tool for businesses to navigate financial challenges with confidence, efficiency, and agility.
The collaboration between FinanceKey and Enable Banking will help businesses streamline their cash management processes, facilitate automation of receivables reconciliation, improve forecasting, and optimize credit management. The partnership aims to bridge the gap between traditional batch-processed banking operations and the increasingly digital and connected world of Open Banking.
About FinanceKey:
FinanceKey is an API and data orchestration layer for finance teams, offering easy integrations, automated reporting, and intelligent workflows. FinanceKey's customers enjoy real-time cash visibility, payment processing, and beneficiary account validation, enabling businesses to act faster, improve decision-making, and automate payment workflows. FinanceKey's dashboards provide customers with immediate benefits from seamless multi-banking, and with its single API, they can easily integrate data and services into their existing tools. The company is backed by notable finance professionals and entrepreneurs, including F-Secure founder Risto Siilasmaa and Finnair CFO Kristian Pullola.
About Enable Banking:
Enable Banking is a pioneering Open Banking connectivity provider dedicated to empowering businesses to shape the future of the financial ecosystem. The Finnish fintech company specialises in providing secure and seamless account data aggregation solutions across Europe, adhering to transparency, compliance, and customer-centricity. Enable Banking is committed to driving innovation in the financial API landscape and fostering the growth of a robust Open Finance ecosystem.
Further information: +358 40 5445 205; comms@financekey.com