Integrations
Simplified integrations & dashboards to monitor connectivity
Easy integrations to +1,600 banks, payment providers and other 3rd parties via APIs and other channels. Single API to feed services into ERPs & other systems.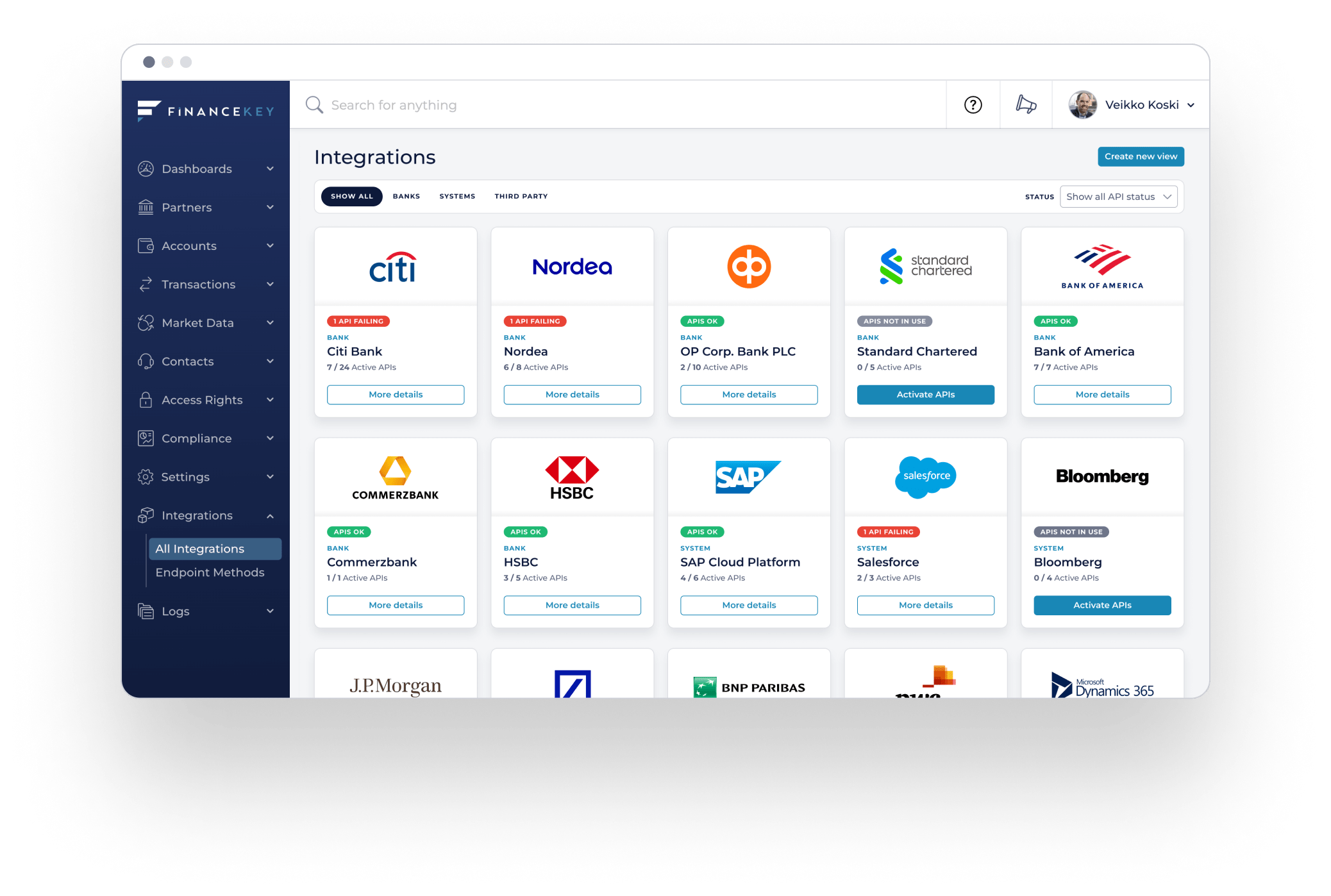 Features
Simplified connectivity
Support for corporate banking APIs, regulatory APIs (PSD2) and file-based channels (such as EBICS, SFTP, FileAct)
Unified data — data mapping, translation, and format transformation, regardless of the original file format type
Ability to receive multi-formats and pass multi-formats onwards
Avoid compatibility issues arising from the modification of bank specifications and other technology changes
Empowering, modern and robust IT infrastructure that provides agility and new ways of working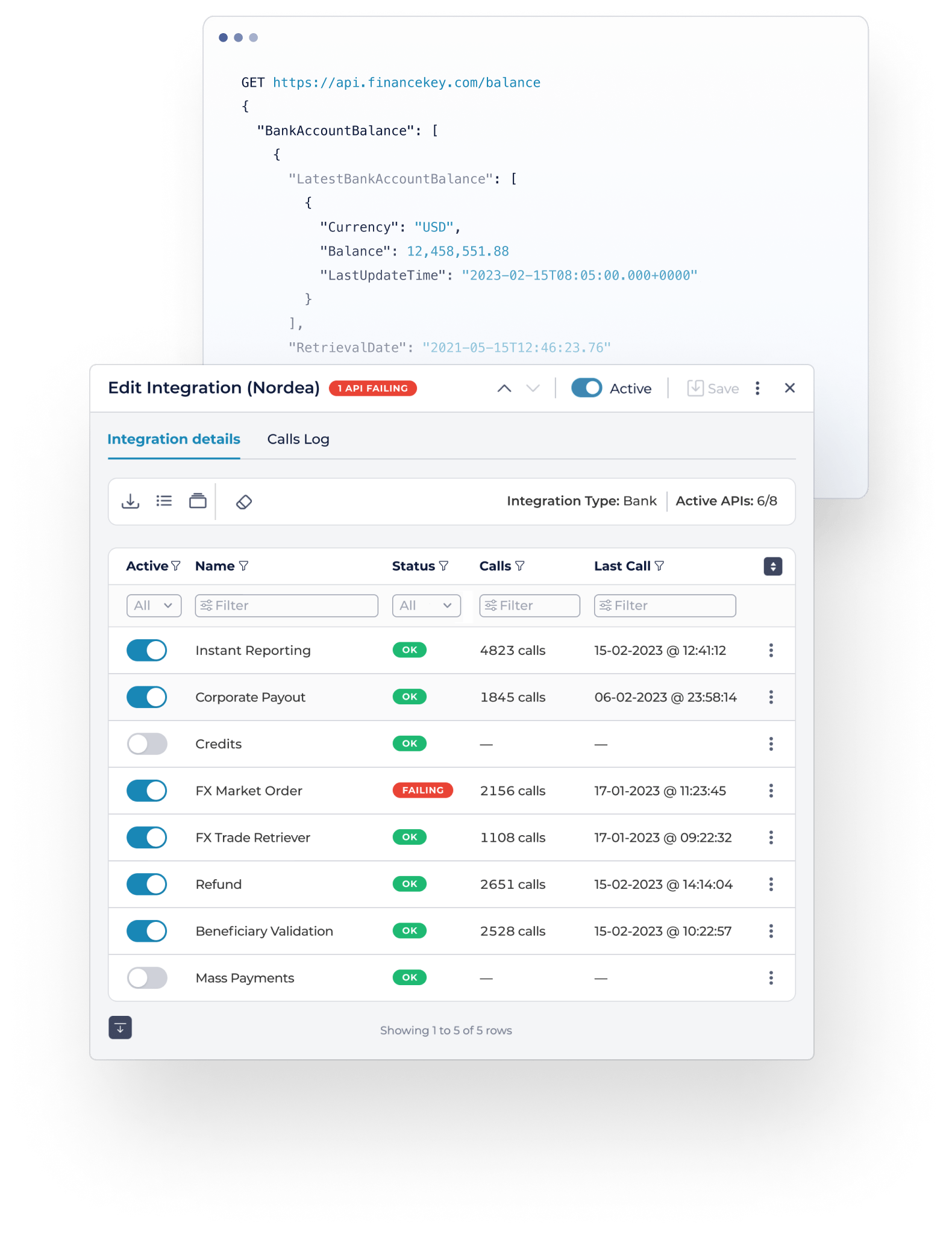 Integrations monitoring & authorisation management
Visualize integrations, flows and data transformation via intuitive & dynamic UI and dashboards
Empower business to manage APIs and other integrations, authorisation and credentials
Save costs with reduced error handling, and the ability to proactively react to problems
Leverage single API to feed data and services to other enterprise systems or use available plugins for standard systems
Single API reduces integration complexity — no need for individual implementation per bank
Achieve API experience via FinanceKey's single-API even for data received through non-API file-based channels
Consume FinanceKey as a service via our API, embedding the service to your existing application portfolio — e.g. to ERP, TMS or CRM — or consume the data & services via existing spreadsheets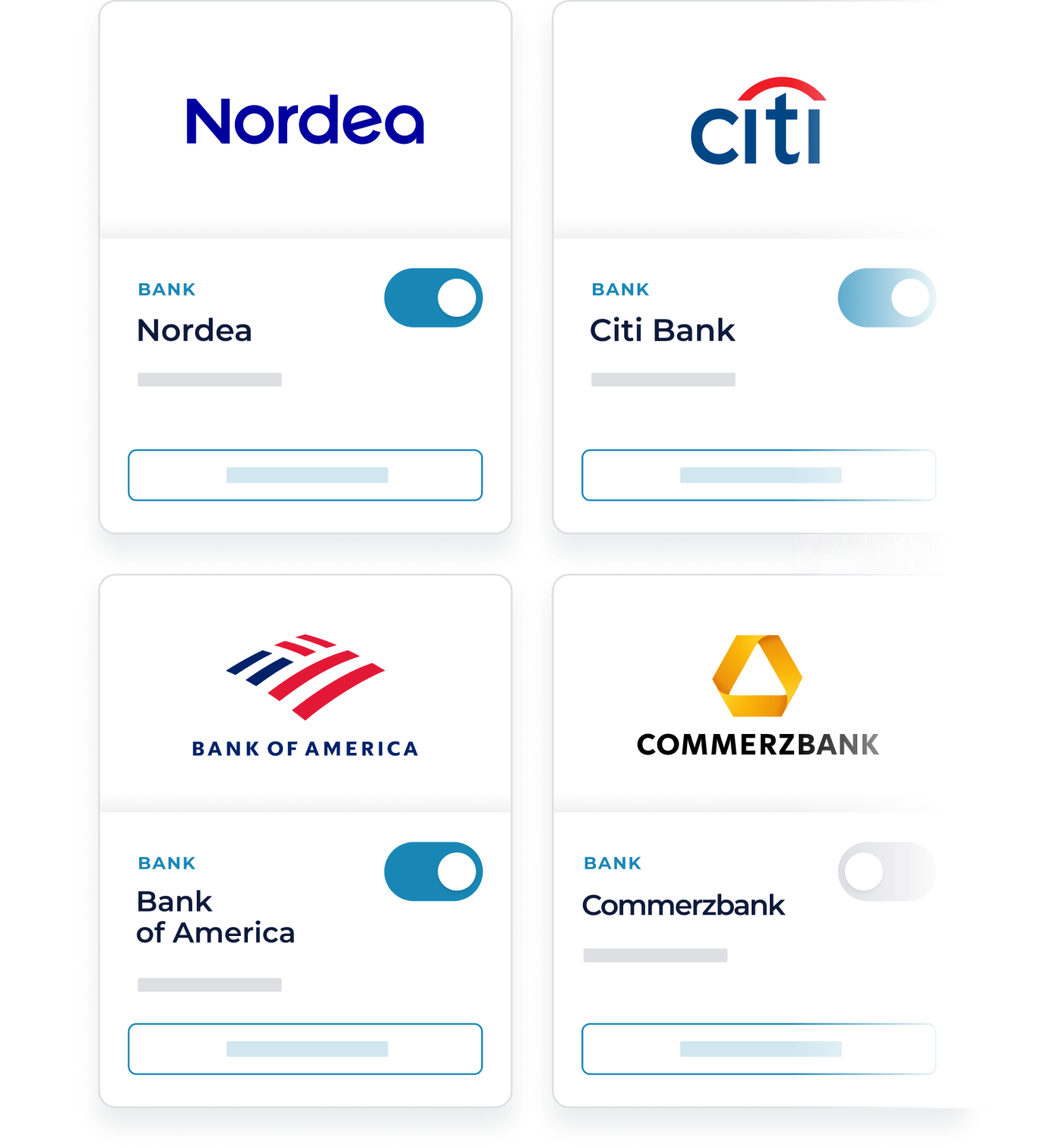 Self-service management of APIs, authorisations and credentials
Notifications about expiring credentials
Leverage API banking and take action from third-party APIs, all in one place
Dynamic and user-friendly dashboard allowing business to take immediate advantage of banking and other APIs without the need for heavy implementation projects and extensive IT resources
Improved quality via feedback loops leading to less errors and cost reductions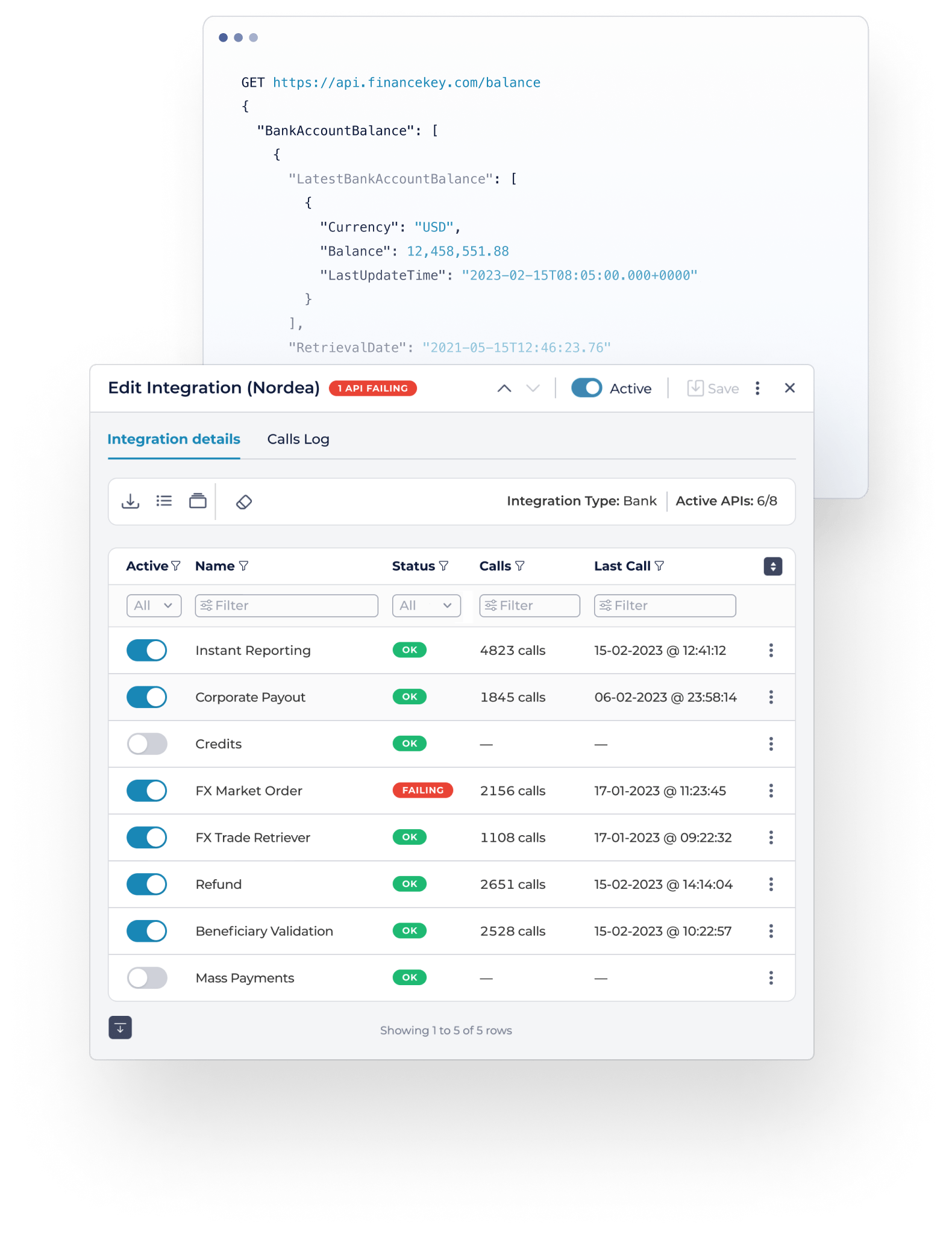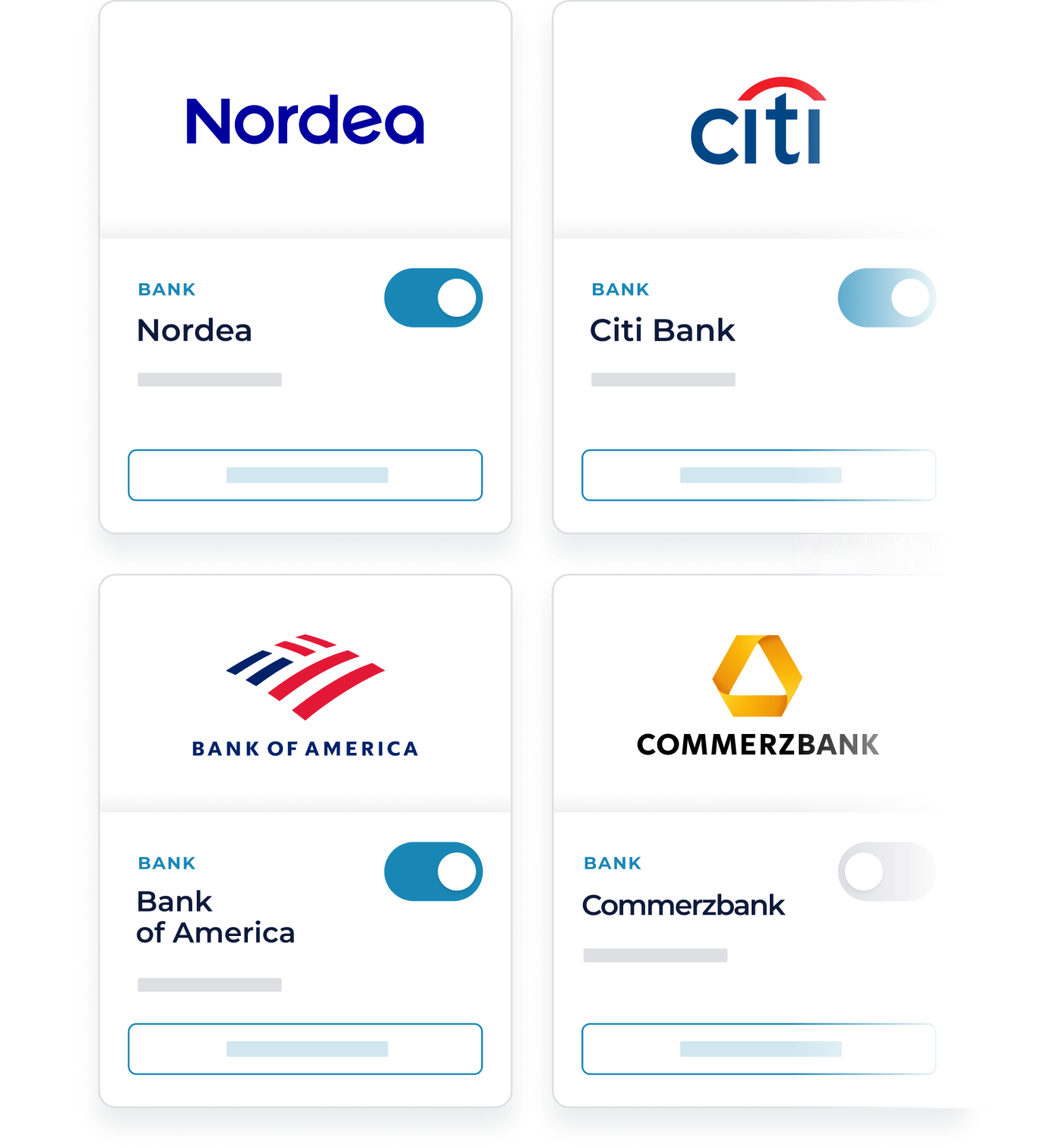 For C-level
Connectivity to banks and plugins to ERP and other systems from one place.
For Treasury
Immediate access to banking APIs with easy-to-use FinanceKey web app or single API.
For IT
Single API reduces integration complexity. No need for implementation per bank.
Experience it first hand
Contact Us
Explore other FinanceKey solutions