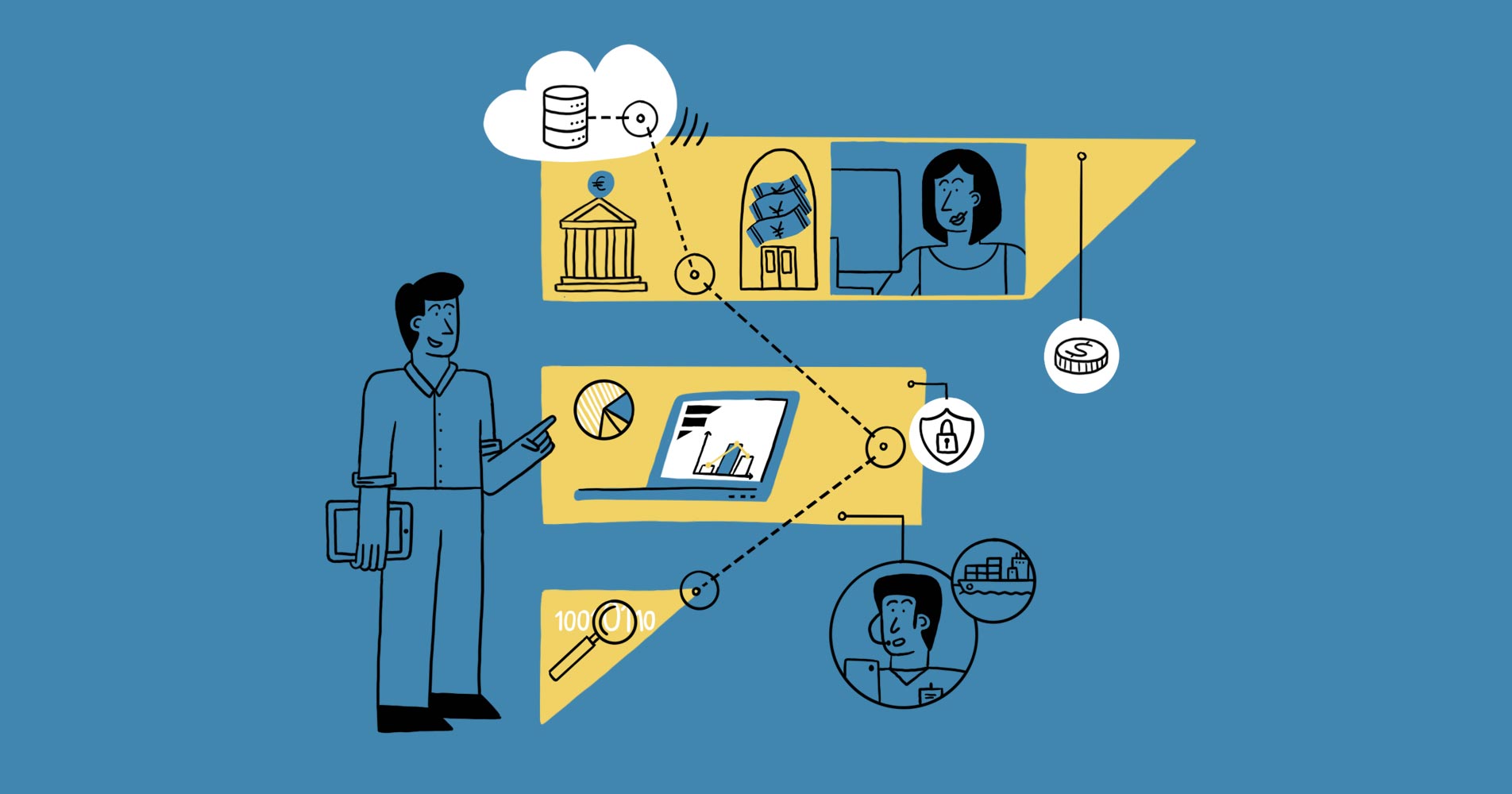 The future of corporate banking — Digital ecosystems bringing mutual benefits for corporations, banks, and other ecosystem parties
Corporate banking is moving into an ecosystem world, empowered by Application Programming Interfaces (APIs). The shift towards the new era is happening but requires a mindset change from corporate banks' interface-centric approach to a more collaborative, customer value, and integration-focused thinking. A well-orchestrated ecosystem creates mutual benefits and new opportunities for corporations, banks, and other providers.
The shift from platform-led corporate banking to the ecosystem world
Corporate banking has long been the playground for incumbent banks and financial institutions. There's been a change from dealing by phone to multi-bank platforms, clients having better transparency to banking fees, and transactions being managed in treasury systems vs. proprietary bank tools. Banks are still relatively protected, partly due to the complexity of the treasury flows and how mission-critical banking services and data are for corporate clients. Banking data links directly to organizations' external reporting, processed in legacy tools and under both internal and external controls — adding extra layers of complexness to tackle.
With retail banking already under disruption, the corporate business of the incumbent banks is not immune to threats arising from the developments in technology and innovations coming from fintech and alike. A more profound shift is now beginning to happen with banking API connectivity designed for corporations making an interconnected corporate banking ecosystem a reality. Consulting firm OliverWyman finds "the highest-margin businesses as the most vulnerable, including small and medium-sized enterprises (SMEs), payments, and foreign exchange." Fintechs have emerged especially targeting the opportunity in the SME sector, an area that the traditional parties often underserve.
Performance challenges limiting banks' development options
The financial industry has challenges with continuous regulatory pressure, a heightened competitive environment, and a low-interest-rate environment. Technological dependencies create another barrier to overcome, for a segment still relying on mainframes and monoliths, entailing a considerable cost burden and slowing down new initiatives. These have resulted in slower growth and lower margins. Increased focus on compliance involves the risk of banks losing the ball on their core mission: serving their clients the best while supporting the growth of client businesses. From the corporate and institutional customers' perspective, banks should make the required investments to seize future opportunities in the changing corporate banking landscape.
Ecosystem opportunities for corporations, banks, and other providers
Ecosystems create opportunities for banks to expand their offering into new clients and markets, provide new and better services and enable innovation between the actors in the ecosystem across various sectors. Choosing a role to partner with other ecosystem players, banks can drive innovation and deliver co-offering with fintech and other third parties. Partnerships allow cross-selling and new revenue streams, business models, and more creation around value-adding services. Corporate banking APIs play a crucial role in empowering the ecosystem to exchange information in the network and open up untapped growth opportunities for banks.
"In banking, ecosystems offer the opportunity to tap into new customers, markets, and data, leading to the potential for greater scale and more complete resources for managing risk," concludes McKinsey in their insight to "The power of many: Corporate banking in an ecosystem world." For banks, ecosystems offer the possibility to broaden their value proposition by leveraging ecosystems. It's a way for banks to stay relevant for their corporate banking customers and ahead of the competition. Research by Accenture, although focused on retail banking, finds that 88% of bank executives see ecosystems changing the customer relationship in the future while 89% see ecosystems as the primary driver of future value creation in the banking industry.
The traditional banking theory breaks apart, but the new ecosystem thinking opens up new opportunities, including embedded banking and Banking-as-a-Service offerings. Taking corporate banking where banks' clients need the banking data and services provide exciting new income streams.
Benefits for banks:
Cross-selling of financial services and banking data. Co-sell with other ecosystem parties, gain access to bank clients' customers.
Generate new revenue streams, business models, and innovative value-adding services, creating new success stories.
Extend presence into areas outside traditional banking services to new territories, products, and services.
Benefits for corporations:
Access a broader range of products and services – in a secure, instant, and digital way.
Utilize transaction-level data in real-time, enhancing and automating treasury, business, and risk management processes.
Leverage the innovations and offerings of fintech and other 3rd party providers—connectivity driving operational efficiencies and supporting different business areas.
Need for standardization
As part of the European PSD2 regulation, APIs made their way more broadly to the financial industry. The payment services directive has helped banks adopt new technologies and innovate APIs beyond the original PSD2 scope, as the directive focus is more or less limited to consumers' payment accounts. Corporate banking APIs are a prime example and an opportunity for banks to monetize their API capability. From a banks' corporate clients' perspective, the shift to almost real-time and digital connectivity is a welcome move from file-based transfers and batch processing. However, every bank implementing their corporate APIs with their own nuances of existing standards is a challenge.
Various ways of developing security standards and communication protocols cause a headache for corporations dealing with multiple banks. Taking corporate banking APIs into use becomes IT projects, as treasuries dealing with bank connections lack the required technical skills and resources. Even if banks would have followed the same standard implementing their API, it often is interpreted differently. Maintaining APIs with version changes requires ongoing access to IT staff.
Lack of standardization also concerns how banks expose data and services to the end customers. Column names for the same fields differ, data formats are different, and practices vary how master data, e.g., country info, is presented by various banks. Some banks expose the same level of information as in the SWIFT messaging, while others provide more details per transaction. Tackling the API connectivity to multiple banks and their various API Endpoints requires considerable resource investment from corporations and financial institutions.
How to build an optimal ecosystem?
An essential requirement for banks is a mindset change. The thinking needs to change from corporate banks' interface-centric approach towards the new trends of embedded finance and Banking-as-a-Service, where financial and banking services are brought where banks' customers need these — B2B2C, B2C, or B2B. In the API Economy 101 book, Moilanen & Seppänen open up the necessity for change "Operating in an ecosystem requires adopting a new philosophy of thinking and action. Instead of building our silos, we should gather together to reflect on – and innovate – how to create a common and open ecosystem that is easy for everyone who wants to join."
As the business model of financial institutions is changing, connectivity becomes an essential element of future corporate banking. The first-mover banks have reacted by implementing a set of corporate banking APIs to serve the emerging customer needs, which they are steadily developing further with client feedback. With digital ecosystems, the pipes connecting the participants are crucial components required for value creation within the network.
Ecosystem operators might not have similar connections but a common goal. Neutral partners are in an optimal position of a gatekeeper coordinating the ecosystem and its development towards that shared objective — and ensuring a single integrated experience. For a flourishing digital ecosystem, investment is needed in the architecture, sharing knowledge, participation in standardization, and creating complementary components and services (Moilanen & Seppänen).
OliverWyman envisions "an open corporate banking ecosystem, with a number of different players participating and jostling to provide corporates with the services (financial and non-financial) that they need and value." Ecosystems are the cornerstones of making future corporate banking truly digital and providing interconnected services to corporations.
API-as-a-Product — monetizing ecosystem connectivity
APIs are the centerpiece of a functioning digital ecosystem. McKinsey emphasizes how "APIs connect ecosystem partners, organizations, and clients seamlessly, enabling the integration of capabilities and offering of new products and services across ecosystems." These little messengers provide customer value on many levels — e.g., corporate banking APIs benefit developers, 3rd parties, and corporate employees. For banks and other ecosystem parties, APIs open up new business opportunities with a monetization potential. Hence APIs should be treated as products designed for a targeted audience and not just as a piece of code enabling system integrations. Every organization in the ecosystem can offer their APIs or co-create these with other parties for tackling specific end-customer pain points.
Corporate banking APIs designed for treasury and business use offer the potential to leverage existing API-infra built for compliance-focused APIs (PSD2) and monetizing banking services. As the banking data is under-utilized by corporations, just the data offers opportunities worth exploring. Taking banking services to where businesses need these – to supply chain, customer services, sales – is another huge opportunity, opening up new relationships for banks inside a client organization, in addition to traditional treasury contacts.
Corporate banking APIs adding value for the ecosystem operators
The exponential potential of APIs lies in integrations within the network of the ecosystem operators. Integrations, e.g., in the trade & logistics channel – connecting freight forwarding services, trade insurers, suppliers, and customers into real-time banking data – will radically impact how international trade gets orchestrated. With instant access, and even a step further, cross-border payment tracking initiatives like SWIFT gpi are radically improving the speed of businesses in the future – and more importantly, enabling truly digital global trade.
The most typical use cases of APIs remove the need for entering transaction details in treasury platforms and bank user interfaces separately, providing value for all ecosystem parties involved in the transaction. Automating the data flow reduces duplication of data, decreases the risk of errors, and frees up the time from corporate employees to more value-adding tasks — bringing down employee stress levels and positively impacting well-being. When it comes to treasury jobs, dealing with multiple legacy systems leads to fragmented processes, workflows, and data. Thus, tackling the simple tasks with modern software supporting API connectivity significantly impacts many organizations' operational efficiency.
From an ecosystem perspective, the most promising use cases arise from transaction monitoring, cross-border payments, trade finance, and lending (e.g., syndicated loans) — areas where multiple parties are involved. The most digital-savvy companies, often the SME tech players, are leading the way as early adopters of banking APIs. Banks are reacting to the change — forerunners lead the way with a growing family of API products while followers are getting to speed.
Path to the future of corporate banking
The future of corporate banking is creating new business opportunities — such as API-as-a-Product, Embedded Finance, and Banking-as-a-Service (BaaS) —, generating tremendous operational efficiencies and new growth options for all ecosystem participants. McKinsey sees the time ahead "characterized by ecosystem-like interactions, enabled by APIs and platforms built by clients, banks, and thirdparty providers." Corporate banking APIs are the first step in a path to the new interconnected world. APIs remove unnecessary silos and dependencies between banks, their largest clients, external stakeholders, and 3rd party providers. Collaboration among the ecosystem operators is vital for accelerated adoption of premium banking APIs, advancing the ecosystem, and foster value creation for all participants.
While building future capabilities, corporate banks need to bring their clients — corporations — to the core of the design process of their digital services. Moving from the bank-owned interfaces approach to collaborative ecosystems requires a mindset change. The new attitudes build from digital culture, understanding the tech, emphasizing customer benefits, and implementing agile pilots with 3rd parties for actual use cases addressing existing corporate banking customers' pain points. The better grip a bank has on the targeted audience and the more time they invest planning the customer journey, the more likely they'll be among the new ecosystem-lead corporate banking winners. Education plays a significant role for banks internally adopting the digital culture and towards corporate banking customers internalizing the potential of the connected services and real-time product offering. Raising the awareness will have a snowball effect as clients progress with ERP, TMS, and other transformational digital projects. While finance teams might not see the immediate value for them, the demands from businesses will accelerate the path towards the API-empowered corporate banking ecosystem.
How to increase the pace towards a digital corporate banking ecosystem?
Digital culture first — fundamental organization-wide changes start from the top. Commit to the culture, empower people and educate everyone — it's a continuous learning path at every level, with the highest level of commitment required. Recruit the people with the skills needed in the future and train the existing employees to future-proof their careers.
Get the tech right — tackle the tech architecture supporting scalability & digital needs of the future. Capitalize connectivity and embrace APIs. Micro-services API architecture endorses the onboarding of specialists for niche areas.
Customer value always in mind — take inspiration from Amazon's leadership principle, "customer obsession." Corporate banking is B2B; however, in the end, the value is created for the end-users (which can vary). Focus first on the use cases which bring immediate benefits.
Collaboration over silos — bring people from different ecosystem participants together and across the organization from other functions, co-create and co-innovate — and improve the communication over the artificial silos legacy systems and current organizational hierarchies have created.
Disruptions won't happen overnight. But with the critical mass behind, things will move at an accelerated pace. As banks' corporate customers begin demanding better digital offerings, the apparent change is gaining speed. The shift to the ecosystem world will generate mutual benefits for the participants, while the early adopters will have an edge to capture new markets and innovate new offerings. If banks were to seize the opportunity, this is the time to take action.
FinanceKey provides secure and seamless access to real-time banking data and services via corporate banking APIs. FinanceKey offers a standalone solution with a UI designed for finance professionals and integrations to existing enterprise IT solutions. Please contact us for more details – we are happy to guide you on your open banking journey!